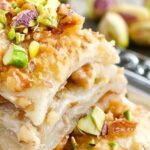 7 Most Popular Turkish Dishes
---
Straddling Europe and Asia, where East meets West, Turkey's melting pot of cultures is best reflected in its cuisine. If you're a newcomer to Turkish food, you've got a mouth-watering journey ahead of you – get started with these seven classic dishes.
1. Baklava
Dating back to the Ottoman Empire, baklava is one of the most iconic Turkish dishes and a must for anyone with a sweet tooth. This layered pastry is filled with nuts and covered in syrup and ground pistachios for an unforgettable Mediterranean dessert. You can find baklava in most bakeries and supermarkets, but it's best when freshly baked.
2. Şiş kebap
'Kebab' is an umbrella term that encompasses a variety of street eats, but the most famous is the skewered şiş kebap. Traditionally made of beef or lamb, today diners can choose from a wider selection of meat, fish, poultry and vegetarian options, grilled over charcoal and served on metal or wooden skewers.
3. Döner
The other famous kebab, the döner offers the same diversity in the choice of meat, which is seasoned with herbs and spices and cooked on a vertical, rotating spit. Fresh cuts are served in a bread wrap along with salad and garlic or spicy sauces.
4. Köfte
Turkish 'meatballs' come in all shapes and sizes, and can be eaten solo as street snacks, dipped in plain yoghurt or served with rice and salad. Different regions of Turkey have christened their own distinctive varieties, including Izgara Köfte, served with grilled peppers, rice and bread, and Çiğ Köfte, eaten raw.
5. Pide
Commonly known as 'Turkish pizza,' like its Italian cousin, pide is a flat pastry base topped with cheese and assorted meat and vegetables, heated in a stone oven. The choice of toppings is practically limitless, making pide and its leaner counterpart lahmacun ideal for vegetarians and diners with other dietary requirements.
6. Kumpir
A cheap and flexible street food staple in Istanbul's bustling Ortaköy district, kumpir is a crispy baked potato with your choice of creative fillings.
7. Meze
If you're having trouble choosing from the menu, get a crash course in a range of traditional delicacies with these cold appetisers. A typical meze includes about 20 items, from bean dishes and salads to dips and spreads, served with bread and drinks.
The taste of Turkey in Gungahlin
Zehni's Turkish Kitchen brings the authentic flavours of Istanbul to northern Canberra, served in a warm and inviting atmosphere. Find them and other delicious restaurants at Marketplace Gungahlin.